Daughters of the Struggle
Click here to download more about this event here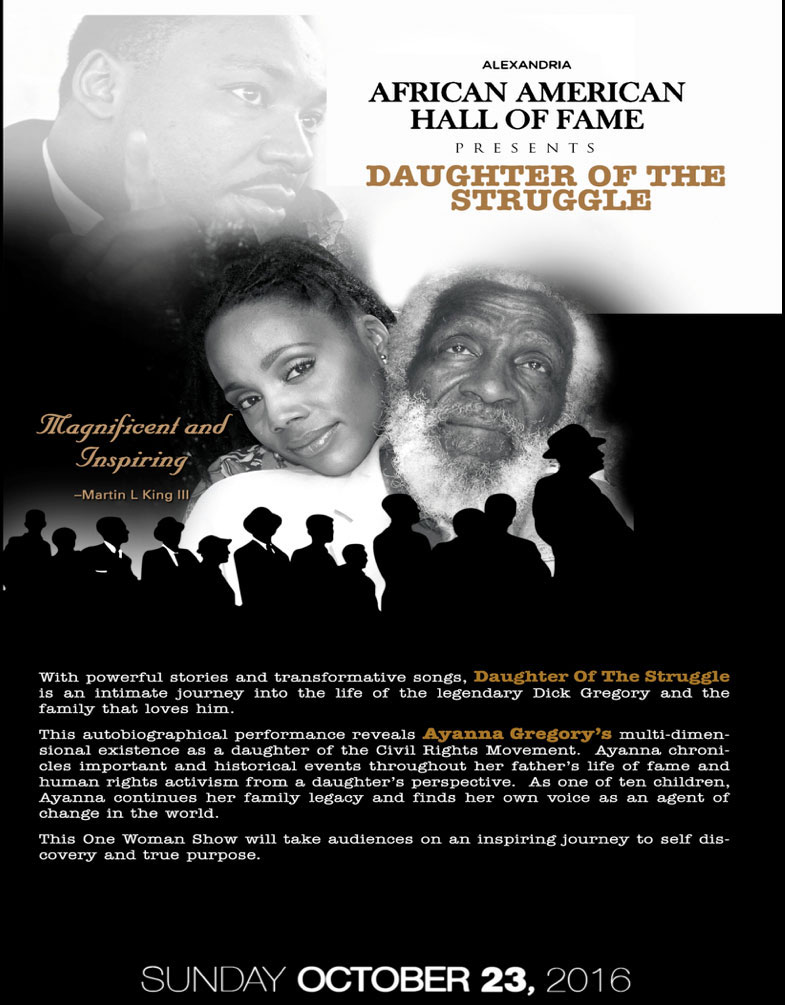 REVIEWS FROM DAUGHTER OF THE STRUGGLE
"Ayanna Gregory is truly Magni cent and Inspiring! Daughter Of The Struggle captures the essence of what the Movement was about. It is a powerful and important production. I wholeheartedly encourage everyone to go and see it! – Martin L King III
"My mother used to say, 'with privilege comes responsibility'. In this One Woman show, Ayanna Gregory has shed her incredible light on what our new generation needs to hear! She and I were blessed to have parents of the struggle to educate their children on their human rights." – Malaak Shabazz, United Nations (daughter of Malcolm X and Dr. Betty Shabazz)
"Daughter of the Struggle is a must see performance which captures the spirit of the Civil Rights Movement as seen thru the eyes of a child. Ayanna Gregory's story speaks to the soul of its audience and communicates the love, fear and hope of a people's struggle to be free." – Anthony Browder
"I can say without a doubt that all of your work comes with a powerful message that motivates and inspires listeners. I could name at least 100 performers today, and I would still put you and your talent at the top of the list without hesitation" – Dr. E. Faye Williams, Esq., National Chair, National Congress Of Black Women Inc.
"Daughter Of The Struggle is a searingly poignant, funny, courageous, heart tugging portrayal of the Movement. It is something EVERYONE should see. They will BLESSED when they do. AYANNA's one woman MASTERPIECE is MUST SEE THEATRE!!! I'm Rock Newman & I approve this message." – Rock Newman
"Powerful and moving… nothing short of miraculous!" "Ms. Gregory reminds us in her one woman show Daughter of the Struggle why legacy–the stories we tell our children–is so vital to the survival of a people." – Dr. Carol E. Henderson, Chair, Department of Black American Studies, Professor of English, University of Delaware.
"Her performance was incredible! Every chance you get, you have got to see her live and in person." – Mazi Mutafa, Executive Director, Words Beats & Life Inc.
"This is an inspiring journey of self-discovery and family introspection" – Quote from The Washington Examiner
Thank you for producing and helping to mount this tour de force performance. We were honored to witness these re ections of Dick Gregory, one of our most treasured living socially conscious legends through the eyes of his daughter, Ayanna Gregory. He's a home grown griot unafraid to speak truth to power even all those years ago when such activities were considered un-American and dangerous. Ayanna's powerful performance captures the moments with intensity and grace. Through testimonials, music, and mesmerizing movements, she brings the audience along on the precious journey, recounting what it was like to live in a household of ten children, learning from her siblings, trying to keep up and be a "big girl" while accompanying her family on marches and sit-ins. It's easy to forget that the early activists put their bodies and lives on the line, but once you hear the story from a frightened child's perspective, her account of death threats, and descriptions of the menacing crowds eager to bash heads, even little ones, it really hits home. The struggle was real, and this daughter of the struggle shows how close we came to losing them all. At the same time, she is a beacon of light, letting us know, just as Dick Gregory always has, that there is hope in the struggle, joy, laughter, and yes, lots of love. In this ftieth year celebration of the March on Washington, this same month, the cosmic forces are shining brightly on Metro Stage for bringing us this treasured performance. I hope that others will take the opportunity to enjoy this perfect alignment of social consciousness and entertainment. That we still have Dick Gregory and his wife Lillian with us is truly a blessing to savor. Through Ayanna's performance, we can share the legacy by bearing witness, holding each other's hands and celebrating their amazing journey together– Now!" – (Theater Critic) Debbie Minter Jackson
ARTICLES FOR DAUGHTER OF THE STRUGGLE
Link to Wash Post: http://www.washingtonpost.com/blogs/reliable-source/wp/2013/08/02/hey-isnt-that-nancy-pelosi/
Link to The Washington Examiner: http://www.examiner.com/article/ayanna-gregory-is-true-daughter-of-civil-rights- revolution?cid=rss&no_cache=1362751168#main-content
Lil SoSo Productions: http://lilsoso.com/lsp-picks/culture-picks/theatre-pick-ayanna-gregorys-daughter-of-the-struggle#. UxTpF3PUZBF
University Of Delaware: http://www.udel.edu/udaily/2012/feb/ayanna-gregory-021612.html
The Gazette: http://www.gazette.net/article/20140319/ENTERTAINMENT/140329982/1032/ayanna-gregory-pays-tribute-to- father-family-in-one-woman-show&template=gazette